Getting To Know Tom!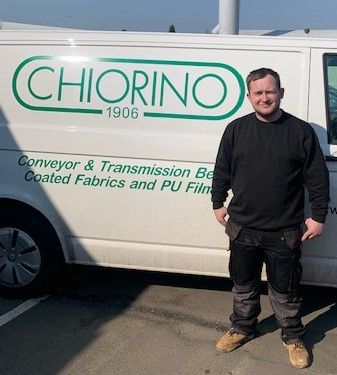 We're so proud of our team here at Chiorino so it's only natural we like to shout about how great they are! Our belt fitter, Tom, is a relatively new addition to the team, and already we've been so impressed with his hard work and enthusiasm for his role! We sat down with him for a chat and to get to know him better.
What does your role involve?
My role involves the fabrication and fitting of all types of conveyor and process belts, both on-site and in a workshop environment. This is all for a diverse range of industries which include food, paper and wood, logistics and industrial production.
What are your key responsibilities?
Ensuring complete customer satisfaction by making sure our customers receive the best service possible and solution – no matter how big or small the job is.
Assisting the local branch by ensuring orders are made to the highest standards.
Providing assistance to our sister branches and HQ when required.
What is your favourite part of the role?
I really enjoy working closely with a team that really cares about customer satisfaction and service, and of course, working with a quality product! I also love problem-solving and always trying to improve our standards.
Do you have any hobbies outside of work?
I'm a sporty person at heart! I love golf, football and cycling.
What's the best thing about working for Chiorino?
I love that every day is different, learning new skills and applying existing skills in a new working environment. I really enjoy working closely with my colleagues and in a larger team for a company that is passionate about belting.
At Chiorino, we're always on the lookout for new talent. If you think you'd be the right fit for us, get in touch today!