Open Length Timing Belts
In today's market, manufacturers require specialisation, flexibility, and the ability to continuously update their technology. Over their 100 years in the industry, Chiorino have consistently provided solutions to these market needs by offering state of the art technology, allowing optimum productivity for conveying goods.
As a global reference supplier for conveyor and process belts, flat transmission belts and rubber aprons, in 2011 Chiorino expanded its product range to offer polyurethane and rubber timing belts. Behind the development of all Chiorino's belting products lies their philosophy of "total quality" which allows them to offer the right solutions to meet specific needs.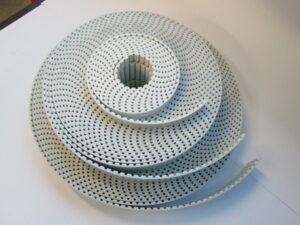 Polyurethane Open-end Timing Belts Overview
Polyurethane open-end timing belts are characterised by high load capabilities and assure high quality due to tight tolerance and excellent dimensional stability. Other characteristics include:
– Carcass in Kevlar or Steel cord
– Maintenance free operation
– High durability and cut resistant
– Grease, chemicals and water resistant
– Suitable for high temperature variation environments
– Can be supplied as open length rolls, or as endless jointed belts
– On request the addition of a polyamide coating on the back and/or tooth face is possible during production
Typical Application
The design and characteristics of the open-end timing belts makes them highly effective in a variety of industries where linear motion and accurate positioning are required, and utilised in industries including textile non-wovens, electronics assembly lines, logistics and packaging to name a few.
To find out more, contact our team on 01977 691 880 or email info@chiorino.co.uk.