Chiorino's HP Compact Drive in Food Production

Chiorino are one of the leading suppliers for conveyor belts to food manufacturers worldwide. We understand the importance of efficiency and hygiene in such a high-paced industry. Recalling a food product due to hygiene concerns can cause irreparable damage to a company's reputation, whilst faulty parts of the production process can cause a costly collapse of the manufacturing chain. That's why we've specially designed the Chiorino HP Compact Drive. Check out why you should switch to a HP Compact Drive below:
The design of the HP Compact Drive has revolutionised the way we manufacture food. The reinforced homogenous belt is made from highly compact polyurethane, guaranteeing an entirely smooth surface and fully preventing cracks which can cause bacteria proliferation. Unlike modular belts, it is possible to achieve total hygiene. It also has non-stick properties that make it resistant to fats and oils left behind by food.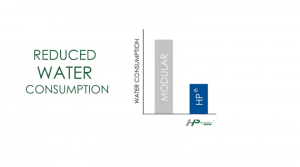 It is estimated that cleaning a HP Compact Drive Belt uses 60% less water and 50% less energy than traditional belts. It is also quicker to sterilise, reducing downtime for the production line, and is resistant to the most strenuous of sanitation procedures. The belt also has outstanding mechanical stability that does not diminish over time and hydrolysis, that would normally affect most conventional belts, does not affect the HP Compact Drive, allowing you to run the belt constantly and completely trouble free.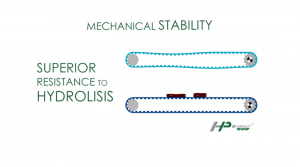 The incredibly high hygiene standards and mechanical stability are not the only qualities that give the HP Compact Drive Belt the edge in food manufacturing. These positive drive belts can be supplied with any kind of teeth or pitch, and can be completely tailored to your needs. The reinforced traction core allows for unlimited flexibility and configurations, making them ideal for swan neck conveyor belts. Plus, the lower tension reduces the risk of misalignment and mechanical stress, saving time and money on maintenance repairs.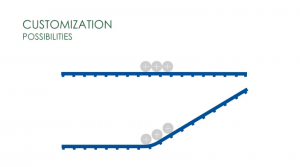 To learn more about Chiorino's HP Compact Drive and how it can benefit your business, please give our team a call on 01977 691880.