A Successful IFFA 2019!

Having recently returned from the IFFA in Germany, we thought we would update you on our trip!
As the leading international trade fair for the meat industry, this was something our team were excited to exhibit at and it definitely lived up to its expectations!
This was a lively and interesting fair with many OEMs showcasing our products which was very encouraging! It also gave us the opportunity to meet people from across the industry, allowing us to learn about how they work within the meat industry as well as educate those who were interested in the safe and hygienic solutions we had to offer.
The key products that attracted attention at the fair were the DET belt and the HP Compact Mini Drive. Chiorino's DET belt is the safest high performing belt for contamination – free food with superior detectability to prevent product recalls. Our other belt, the HP Compact Mini Drive, is the ultimate drive solution designed for small pulleys for the accurate transfer of products.
Our products and ethos perfectly matched that of the fair which focussed on the future, looking at how cutting-edge technology can be used to drive the meat industry forward and to provide solutions to its growing demands, with much emphasis on food safety.
The products presented at the fair also provided solutions to other industry challenges such as the skills shortage, highlighting the importance of investing in digitalisation and automation to help overcome this and simplify food processing.
The meat industry is an exciting and ever-evolving industry and it is predicted to continue growing. We look forward to seeing what the future holds, and to attending more exhibitions like this!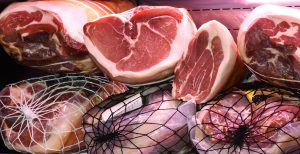 To find out more about our DET and HP Compact Drive belts or to speak to a member of our team, feel free to call us on 01977 691 880 or email us at sales@chiorino.co.uk.