The advantages of HP Compact and Compact Drive belts

In a demanding environment such as that in food manufacturing, it's essential that conveyor belts and technology is reliable, efficient, and meets high industry standards. With research and innovation being at the forefront of everything we do at Chiorino, our HP Compact and Compact Drive belts were designed and manufactured to provide these advantages and to meet the needs of food manufacturers around the world.
As well as providing 100% food safety and water saving features, HP COMPACT® is a new belt concept in the field of homogeneous conveyor and process belts – smooth or positive drive – assuring total hygiene and designed to resist the most severe cleaning procedures. Due to the nature of the industry, food can also leave behind oils on equipment, however HP COMPACT® has been designed to provide excellent resistance to fats and oils, as well as strength and durability.
To compliment the HP COMPACT® range, additions are also made to this family.
The HP Compact Mini Drive with 20mm tooth pitch has the ability to operate around much smaller pulley's reducing transfer point between conveyors and allowing smooth product transfer and increased production efficiency. Below are some other key additional features and their benefits: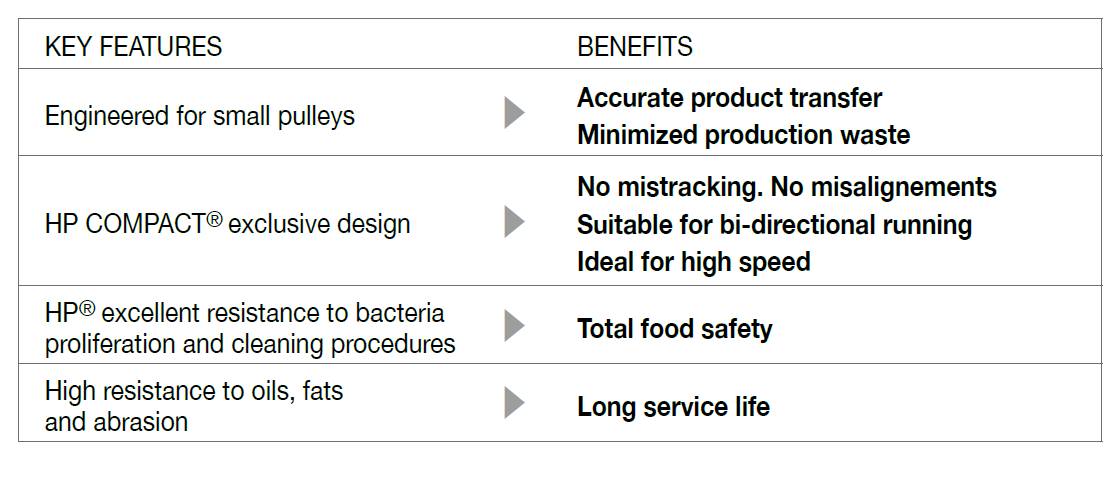 Having reliable and high-quality belting technology is essential for food manufacturers and packers. Without it, the risk of product recalls increases which will not only disappoint customers, it could also have an impact on company name and reputation.
Chiorino's tailored solution, the HP Compact Drive, features all the fundamentals to be able to provide the food processing industry with the most efficient, durable belts. If any issues do arise, we provide a 24/7 response service to deal with any repairs or replacements, and ensure everything continues to run smoothly.
To find out more or to enquire about any of our services, feel free to call 01977 691 880.