HP Compact Drive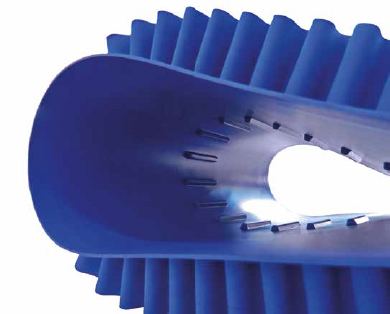 Our HP Compact Drive is a new belt concept in the field of conveyor and process belts, and will bring a multitude of benefits to any organisation that has it installed. Designed to be used exclusively in the food industry, it is a bespoke item that has been developed to excel in one field.
One of the main benefits of the HP Compact drive is that you can be assured of total hygiene in any application. It can be used across the spectrum of the food industry, including meat, seafood, dairy, fruits and vegetables, bakery and sweet and salty snacks. As it is built purposefully with the food industry in mind it is resistant against deformation and cracking, and has superior resistance to cleaning and sanitizing products.
The HP Compact drive has a new standardized pitch of 40 mm, with other sizes available on request.
To go with the HP Compact drive is the HY-Fast, a specialist fastener designed to work in perfect partnership with the compact drive. As the fastener is also designed to be used in the food industry it is made from a thermoplastic food compliant material, and allows for quick and easy removal of the belt for daily cleaning procedures.
As the fastening system is simple and easy to use it also reduces downtime, and improves workplace efficiency.
Chiorino produce belts specialist belts for the food industry, as well as many other applications. To learn more about what we do simply call us on 01977 691 880.